50W RF Metal Tube Fractional CO2 laser
---
PRODUCT DETAILS
---
Theory
Fractional CO2 laser is a revolutionary progress based on fractional photothermolysis theory and shows the unique advantages in a short time. Small beam array produced by fractional laser applied to the skin, after that, the form multiple 3-D cylindrical structure of small thermal damage zone, called micro treatment area (microscopic treatment zones, MTZ) of 50 ~ 150 microns in diameter, as deep as 500 to 500 microns. Different with lamellar thermal damage caused by traditional peeling laser, around every MTZ there is normal tissue not damaged cutin cell can crawl quickly, make MTZ heal quickly, without day off, without peeling treatment risks.
Fractional CO2 Laser heats water, and our skin cells are made primarily of water. When directed at the problem skin area, the laser gently removes skin cells, exposing fresh layers of lower lying skin. The heat from the laser also helps to stimulate the growth of new collagen, aiding in the development of younger, smoother skin. No matter how aged the outer layers of skin may appear, Fractional CO2 treatments will always help improve aging and or sun damaged skin.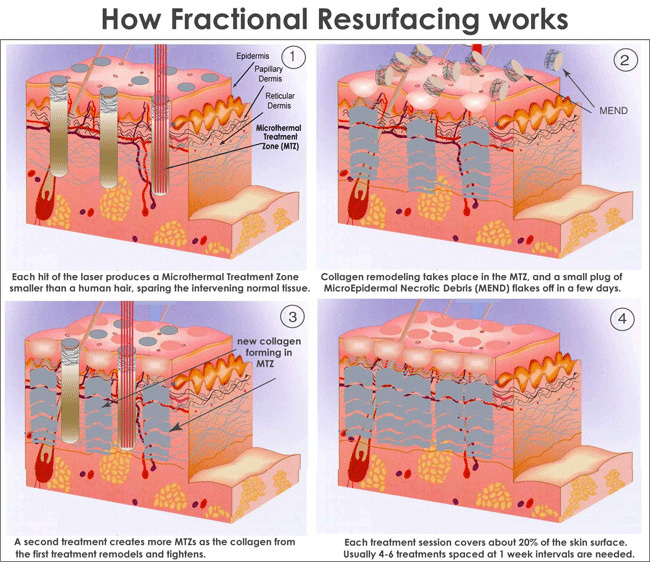 Application
Fractional Skin Care
Acne Scars , Skin resurfacing
Pore minimization, Reduce Wrinkles
Skin tone & Texture, Pigment Skin
Stretch mark , Burn Injuries,Surgical scars
CO2 Laser Surgery
Surgical Probe can be used in Surgery mode.
it can treat wart, mole, Syringoma, milium etc.
Vaginal Rejuvenation
Vaginal Tightening, Vaginal Lubricating
Vaginal Sensitivity, Vaginal Health, Vulvae rejuvenation, lighten pigment and pinks labia parts
Specification
| | |
| --- | --- |
| Laser Type | 50W USA Coherent Laser device ( Original imported) |
| Wavelength | 10,600 nm |
| Screen | 10.4inch LCD touch screen |
| Scan mode | Free scan; Sequence scan; maximum distance scan |
| Working Mode | Fractional Mode, Normal (CO2 laser Mode) Gynae mode |
| Scan mode | Free scan; Sequence scan; maximum distance scan |
| Pulse energy | 1 mj to 100 mj adjustable on LCD screen |
| Aiming Beam | Imported 635nm red semiconductor laser |
| Condenser focus | F=100 mm |
| Scan pattern size | 0.1 x 0.1 mm—20 x 20 mm |
| Beam transport device | 7 articular arm |
| Voltage | AC 110V ~ 220V 50/60 Hz |