Microneedle RF skin care device
---
PRODUCT DETAILS
---
Theory
AIDANA are directly into skin at a certain depth and gives a more uniform deep tissue warming that will then stimulate the collagen and new collagen fibers are produced. Collagen will not only heal the damaged area but also the areas around it, eventually smoothing out minor scars, flattening out fine lines and wrinkles, as well as promoting elasticity in the skin.
It can be used for both epidermal applications and dermal applications in one platform without changing any operational environment.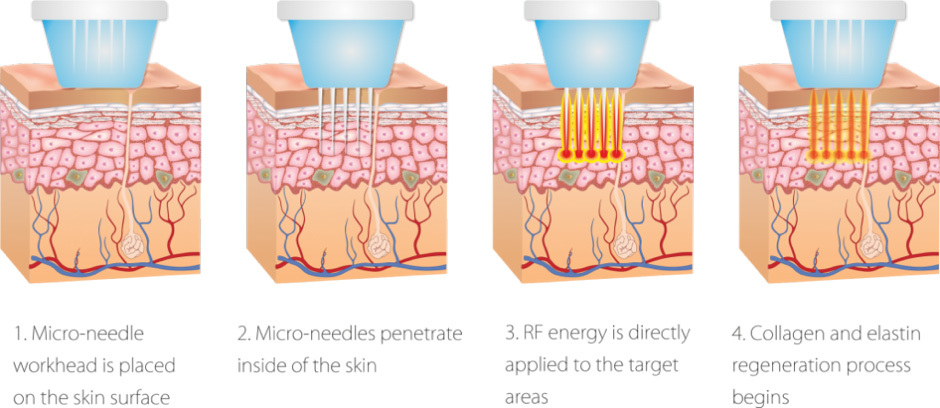 Application
Solve eye problems- Eliminate dark circles, bags under the eyes, eye lines, and relieve edema.
Improve body function-Edema subsided frivolous, improve blood and lymph circulation
Remove wrinkles and collagen regeneration
Remove freckles & skin whitening
Diminish acne & acne scars
Restoring skin elasticity
Improve skin texture and color
Specification
| | |
| --- | --- |
| System Type | Mono & Bipolar RF |
| Frequency | 2MHz |
| Total RF Treatment | Up to Level 10 |
| Disposable tip | Micro-electrode needle / Micro-Electrode tip |
| Spot Size | 12*12mm(25pin),16*16mm(49pin), 14*14mm(64pin) |
| Depth of Needle | 0.5-3mm(Adjustable) |
| Display | 10.4 inch LCD |
| Switch | Foot Switch |
| Package size | 56*51*50cm |
| Weight | 20kg |
| Electrical Requirements | AC/100-240V,50-60Hz |