11 lines 3D HIFU for face and body
---
PRODUCT DETAILS
---
How does it woks on Face?
HIFU depth is 1.5mm - 4.5mm. It can also act on deeper layer SMAS, the key point of traditional face lift surgery. Therefore, HIFU has broken the previous limit, is the first instrument for non-intrusive SMAS treatment. Every single HIFU energy point ( TCP ) under the skin can make the temperature reach 65 ~70℃, is the strongest temperature of all non-invasive skin tightening device. Special one treat press can shot 11 lines.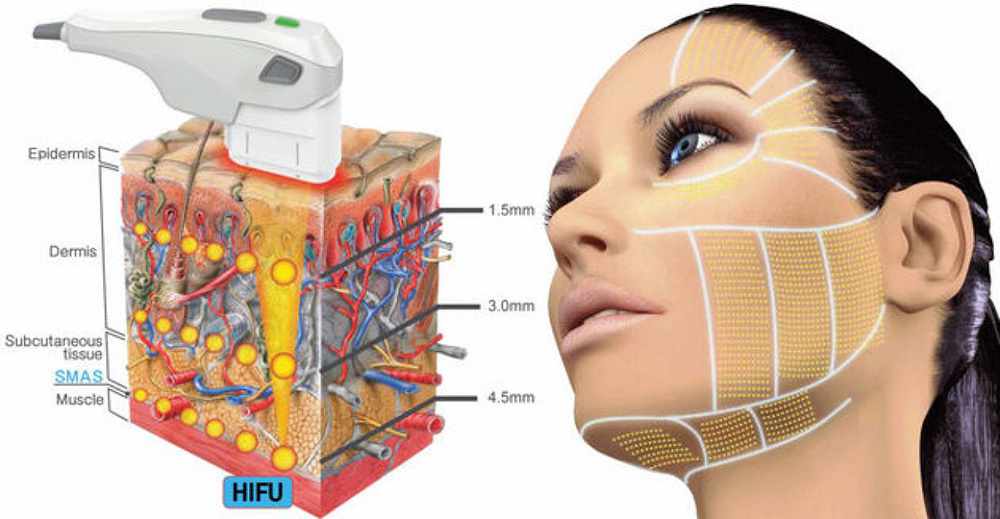 How does it works on body?
Our 3D HIFU uses noninvasive high intensity focused ultrasound, penetrating into skin 6-16mm, reaching deep fat tissue to achieve weight loss and body shaping two perfect effects. It transfers the high intensity sound wave to heat energy , resolve the subcuaneous fat cells under high temperature and high to achieve the effect of fat reducing weight. With 65 degree to 72 degree temperature to stimulate layer collagen contraction and subcutaneous tissue hyperplasia, fill the gap after melting fat quickly.

Application
- Facial Wrinkle removal:
Deep wrinkles, forehead lines, nasolabial groove lifting, lip wrinkles, frown wrinkles, tighten skin, removing double chins.
- Wrinkle around eyes:
Eyes contour lines, crow's-feet, pouch, tightening loose skin around the eyes.
- Whole body skin tightening & rejuvenation:
Back tightening, reshaping breast, buttocks and legs, lumber, hip and leg shape, butterfly sleeve removal, restoring minors stretch marks.
Specification
Energy type

HIFU (high intensity focused ultrasound)

Screen

15 inch touch screen

Energy

0.1-2.0J/cm2

Lines

1-11 adjustable

Shot number

10000 shots/each cartridge

Length

5.0-25mm ( 5, 10, 15, 20, 25 )

Cartridge Optional

8 different types:
Eyes around: 1.5mm
Face: 3.0mm , 4.5mm
Body: 6.0, 8.0, 10, 13, 16
3.0 and 4.5 are standard offered

Machine size

42*31*36 cm

Net weight

10 Kg

Voltage

AC 110V ~ 220V 50/60 Hz