Cavitation Vacuum RF slimming machine
---
PRODUCT DETAILS
---
How does it work?
SFV20 combines Cavitation + RF + Vacuum+ Red and Blue light + Fat Rotating in one machine. It use the high speed sound wave broken the cellulite and the RF heat it and then fat rotating probe with help to strip out the broken fat cell from the cellulite, The stripped out fat cell will also metabolish by the body to achieve body shaping and weight loss effect.
Vacuum and fat rotation with PDT red and blue light : Decrease cellulite accumulation. It helps smooth lymph and discharges the fatty acid and toxin that is decomposed through lymph system. Vacuum hads immediate effect in body shaping.

Cavitation: easy to produce a liquid implosion effect, Namely, wave expansion and compression form a large number of micro-gap in the liquid, which is full of gas and steam, the strong sound waves have positive effects on the liquid molecules at compression cycle. There is cohesion among liquid and biological tissues, molecular bonding is Weak in low density fat cells, and the low vacuum caused by strong sound waves can generate Organize gaps, in physics known as the " cavitations " And the implosion caused by micro gaps inside and outside cells will promote molecular motion, makes a high energy level, which finally led to break of fat cells.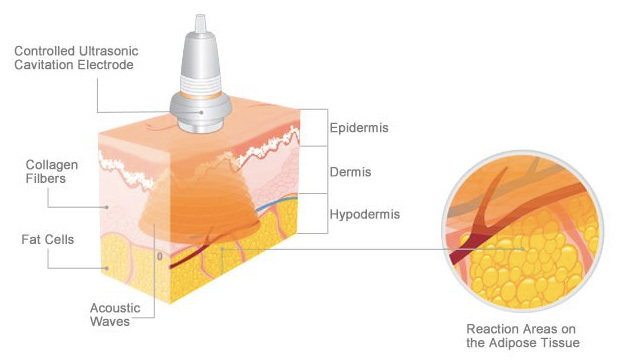 RF with laser : the multi-polar radio frequency causes a thermal reaction in the tissue which stimulates the body's natural healing response causing new collagen to form, and the production of new elastin fibres making skin to look and feel firmer. Skin is heated consistently and uniformly without the risk of any burns. The Laser uses laser energy to safely (and painlessly) penetrate the skin and target specific adipose (or fat) cells. This process causes transitory pores to appear in the cells releasing the adipose (fat cells) contents: water, glycerol (triglycerides), and free fatty acids into the interstitial space thus shrinking the cells and reducing inches in the areas target.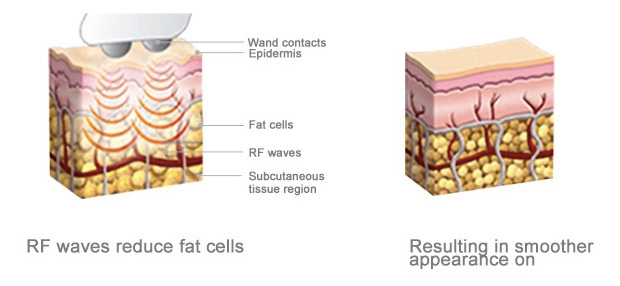 Application
- 40K Cavitation Explode working head
Body slimming, quickly eliminate fat, waist abdomen buttocks legs shape tighten the skin
- Multi-polar Radio frequency
Face and body lifting, wrinkle removal, skin tightening, body shape
- Fat rotating working head
Weight loss, body shaping
Strip out fat cell from cellulite, through body's metabolism to eliminate the fat cell out of body.
Specification
Vacuum

0-100 KPA

RF Frequency

5MHz

Ultrasound Cavitation

40KHZ

Power

250VA

Handle

3 handles:
40Khz Cavitation Explode work head
Hexpolar RF laser work head
Fat Rotating handle with 3 different size working probes

PDT Light

red, blue and purple light

Laser Wavelength

630nm

Service

OEM/ODM,print your logo on the machine shell or put your logo in the interface.

Package size

44* 93*110 cm

GW

70KG

Voltage

AC: 220V/110V, 50Hz/60Hz