Ce Approved Professional Velashaping Vacuum Roller Slimming Machine Body Cavitation Cellulite Removal Machine VelaS10
Model: Vela Shape VelaS10
Delivery Method: Air express by DHL/TNT/FEDEX/UPS door to door service
---
PRODUCT DETAILS
---
Ce Approved Professional Velashaping Vacuum Roller Slimming Machine Body Cavitation Cellulite Removal Machine VelaS10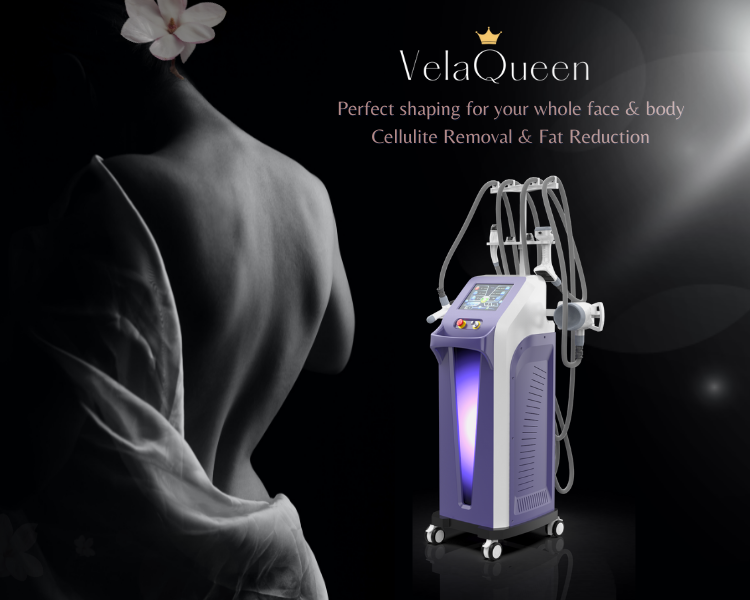 Working Principle
VelaQueen combines Bi-Polar Radiofrequency (RF), Infrared Light Energy, plus Vacuum and Mechanical Massage and the motorized rollers together. Vacuum and specially designed rollers for the Mechanical Massage smooth the skin to facilitate safe and efficient heat energy delivery. The net result increases the metabolism of stored energy, increases lymphatic drainage and reduces or shrinks the size of the actual fat cells and fat chambers.
Especially the motorized rollers working with four rlling directions: ROLL'Up, ROLL'Down, ROLLIn and ROLL'Out. When Roll up, the roller action gently yet intensively conditions skin tissue to eliminate fat deposits, revitalize blood and lymphatic circulation and reactivate lipolysis. The ROLL' In action is re-sponsible for more than 70% of the fat elimination. With the multiple rotational differentials of the ROLL modalities, Mechanical MASSAGE is also able to stimulate the collagen and elastin production and firm slackening skin when ROLL'Out and Roll'Down of the rollers.

Application
1. Eyes wrinkle remoal
2. Facial lifitng skin lifting
3. Cellulite reduction.
4. Double chin eliminating, face lifting.
5. Fat reduction
6. Body contouring & tightening
7. Body shape
8. Build woman S curve mould perfect figure
9. Skin relax for massage, relieve body pain
10. Body detox, promote blood and lymphatic
11. Circulation
12. Breast lifting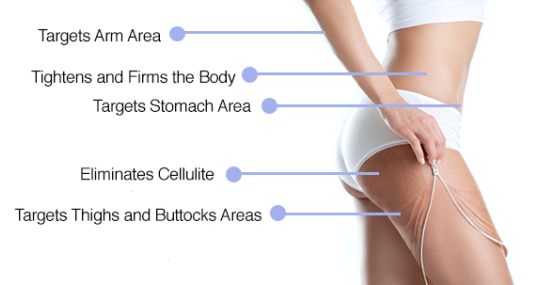 Four Treatment Handles
Handle 1 : vacuum with mechanical roller and radio frequency with infrared Handle
2: vacuum with roller, radio frequency with infrared Handle
3: vacuum with radio frequency and infrared Handle
4: big cavitation handle with 940 nm diode laser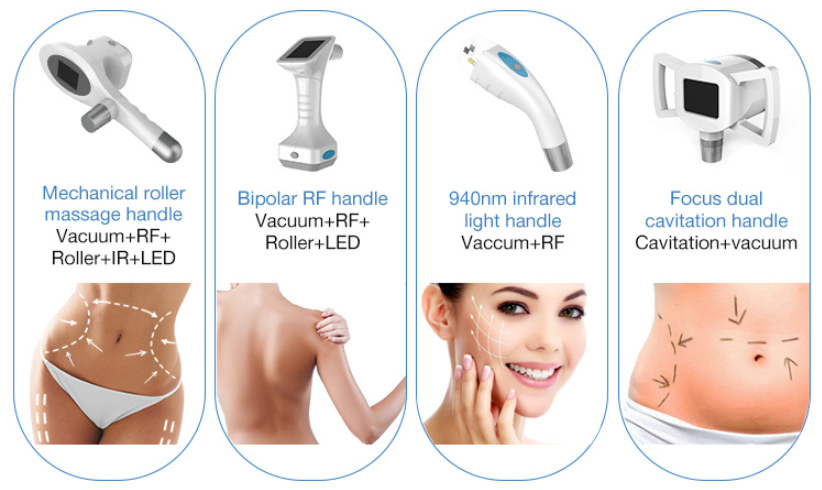 Specification
Model

VelaS 10

Technology

Mintsmed Vacuum+ bipolar RF + Roller +IR

Handles

4 handles with machine

Handle 1 : vacuum with mechanical roller and radio frequency with infrared

Handle 2: vacuum with roller, radio frequency with infrared

Handle 3: vacuum with radio frequency and infrared

Handle 4: big cavitation handle with 635nm diode laser

Machine Screen

10.4 inch touch screen

Handle Screen

2.8 inch & 3.5inch touch screen

vacuum Pressure

10~80Kpa & 20~90Kpa

RF energy

1- 60J/cm2

RF frequency

2 Mhz

Roller speed

3- 36r/min

Ultrasound power

0-60W

Wavelength of infrard

940nm

Voltage

220v/110v; 50Hz-60Hz
Real high quality VelaShape